Bethany Hamilton, 27, grew up on the Kauai USA coast of the Hawaiian Islands (USA), still remembering the fateful day and disaster struck at the age of 13.
In 2003, when he was only 13 years old, Hamilton was attacked by a tiger shark over 4.5 meters long while surfing with friends. That day, Hamilton was lying on the board, relaxing his left arm soaked in water when the ocean assassin rushed to break his arm.
Immediately, she was taken ashore and transported to the hospital. Doctors said that Bethany lost more than 60% of the blood.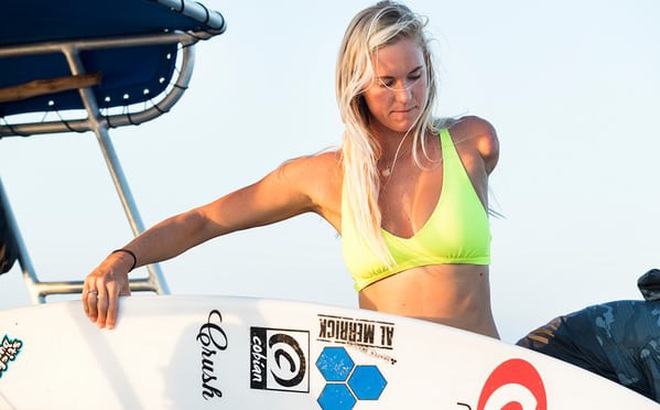 But the miracle happened, just a week of treatment, Hamilton was discharged. Recalling the horrific accident, she said when she was bitten, she did not feel pain, but on the way to the hospital, her body ached like freezing.
Relatives thought that Hamilton would completely collapse both physically and mentally after that terrible accident. But no, she lived stronger with the rest of her body, not even giving up surfing.
Only 3 weeks after the accident, Hamilton was again on the surfboard. She trained her legs to be stronger and more flexible, standing on top of the big waves without using her hands. Hamilton has become a professional surfer, having won the world championship six times.
The story of her courage and her passion for surfing quickly caught attention throughout the United States. Since the accident, the name Bethany Hamilton has become familiar in the American media and has frequently been a guest of many television shows.
2005 marked Hamilton's most successful surfing career when she was ranked first at the NSSA National Championships (High School Surfing Association of the United States).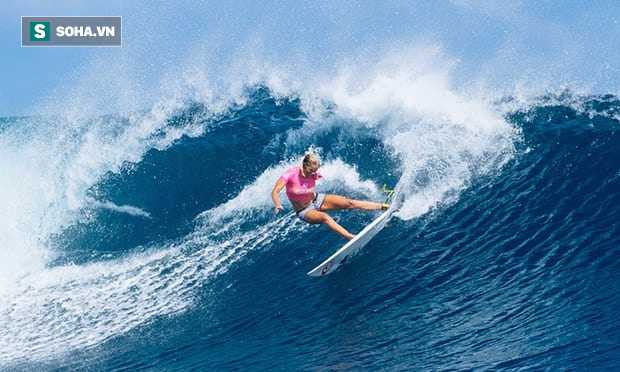 In the following years, Bethany Hamilton continuously won many high prizes in surfing competitions in the US, UK and Australia and became a famous name globally.
On August 18, 2013, Bethany Hamilton married her spouse Adam Dirks in the presence of family and friends. The couple won third prize in the "The Amazing Race 25" contest (25th exciting race of the US).
Hamilton's life was adapted into a movie called Soul Surfer (2011) and the documentary Surfs Liked a Girl. The story, book, or movie about Bethany Hamilton has inspired the lives and rise of millions for the unfortunate people around the world.